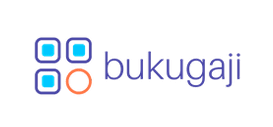 How WireMonster helped An Indonesian Staff Management App achieve 100K+ downloads in less than 4 months
Evaluation in a single quarter.
app downloads through paid campaigns.
decrease in Cost Per Install (CPI) with a budget of $700/day
Bukugaji is an application for MSME entrepreneurs to manage employee salaries, including work schedules and attendance data that affect salaries, to a practical salary payment process. More than 100,000 MSMEs in Indonesia have entrusted Bukugaji to run their daily businesses, businesses, shops &MSMEs in order to save time and be more productive!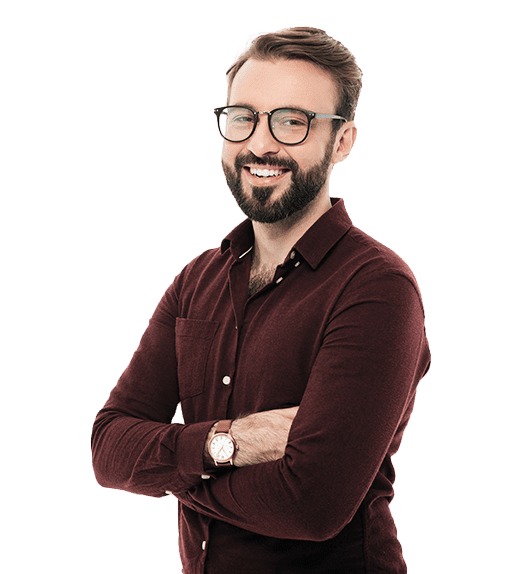 "I chose wireMonster for marketing my Salary management app. They did wonders, stretched daily app downloads to 100k in a month with a budget of $700/day"
– Vidush Mahansaria, ChFolinnar Bukugaji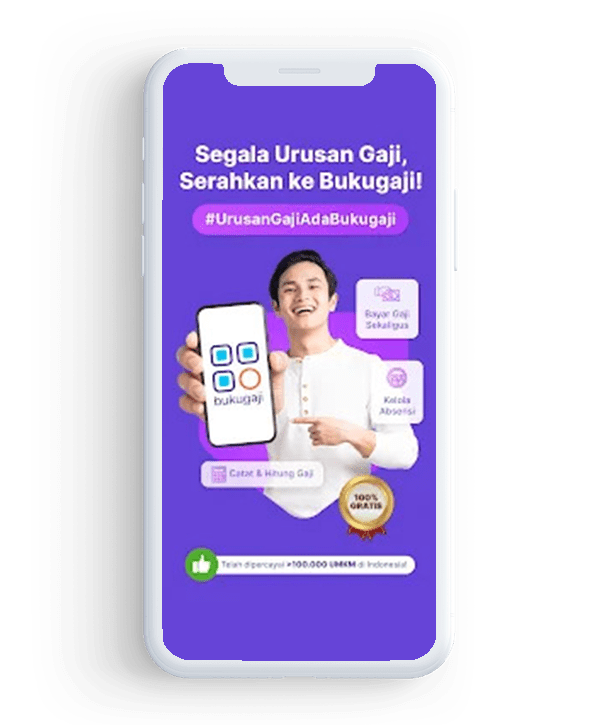 Challenge
The client approached WireMonster to help market their staff management mobile application, Bukugaji, in Indonesia. They presented us with these objectives:
Gather app installs through social platforms like Facebook and Google AdWords.

Target a nationwide audience focusing on particular groups and reach them via ads.

Reduce the CPI and boost the number of downloads of Bukugaji.
Our Solution
We built a complete set of pipelines to drive app installs for the client. Besides, we continually focused on scaling the app installs by optimizing the campaign, improving the click-through rate (CTR), and achieving conversions – leading the company to generate increased revenue and reach millions of potential users at the same time. 
The comprehensive effort on ad creatives and copies, along with user targeting helped us create an exceptional campaign including extensive planning, precise execution, and precise measuring of results. Following the entire process systematically, our focus was on increasing the app installs by improving user retention rate and optimizing the conversion funnel. Also, we designed multiple A/B tests to conduct a better understanding of different sets of audiences. 
As a result, the app gained 100k+ app installations in 4 months with a daily ad budget of $500-$750.
We are proud to have grown Bukugaji, an Indonesian staff management mobile application, to reach 100k+ downloads in 4 months. Every crucial step we took boosted thousands of app downloads and lowered the CPI by 47% keeping the Cost per App Install(CPI) under $0.4. Besides, the app witnessed a 700% increase in installations in the initial 2 months of running the ad campaigns.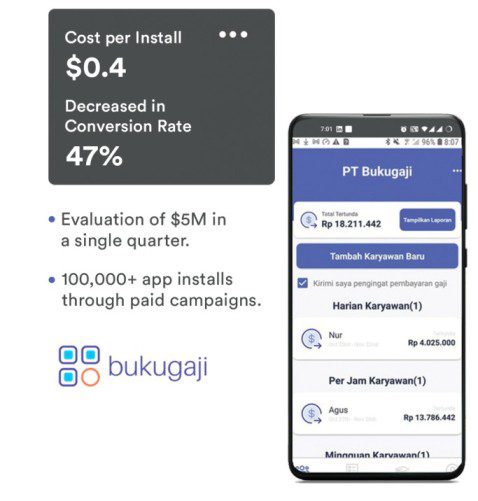 Growth shouldn't be groan-inducing. Let us help you scale your organization with performance marketing services that take the guesswork out of growth.
We'll start with your business goals and budget, then help you find the right digital marketing strategy to ignite real results. 
Fill this form to get started!