People who own, or use, a smartphone is addicted to at least one social media platform. The social media platform is relatively young, and inexpensive, and continues to grow and change. It's no wonder it leaves healthcare providers baffled. We understand your frustration with the lack of understanding of social media as a marketing tool for your healthcare business. And, we have experience in digital marketing for doctors, so we can help you cut to the chase.
Top Social Media Tips And Techniques For Doctors
Social media platforms continue to evolve and change, as do how people communicate/interact with them. Today's digital marketing for doctors looks very different from that of a few years ago. The medical industry is undergoing a social media renaissance after the pandemic brought about a huge change to the offline market. The healthcare providers used this chance to move to the online market. 
With a few simple tips, tricks, and reminders, using social media can become an easy process. 
Before moving further, let us tell you…
Social media marketing is an excellent way to add a modern touch to digital marketing for doctors plan and is an integral part of any promotions for medical professionals. And, using social platforms correctly can lead to a noticeable increase in patient leads, brand awareness, and customer satisfaction.
With busy schedules and hectic lifestyles, it is common for doctors to feel overwhelmed when faced with using social networking sites. This is when you, as a medical specialist, need to work with a professional Social Media Agency.
But for your convenience, We've listed some best healthcare social media marketing practices you can implement for your clinic.
Focus On Your Ideal Target Audience 
Doctors, don't make that classic mistake of trying to be everything to everyone! Your social media campaign won't take off until you know and understand your patient base demographics and psychographics. This can be found by using the right hashtags on social media. Even better, for the residents around your area, the right digital marketing agency for doctors can help you know and understand your patient base.
If you share content related to your niche, your page will be more likely to attract the right audience. Additionally, paid promotions are also an option when trying to reach your target audience.
Diversify Your Social Media Channels 
Social networking starts with having a compelling online presence. By now, you might be aware of the several popular social networks to sign up for, including Facebook, Instagram, Twitter, and LinkedIn. Numerous other social networks are available that you may not be aware of. Therefore, you must take into account the substantial players in the market and use them as your patients would find more connected to. Just make sure to keep your list short and more refined and prioritize quality over quantity.
Above all, be patient as you build your online presence.
When we talk about social media channels, did you know these stats?
Facebook is still the dominant platform for marketers, with 94% citing it (followed by Instagram with 73%).

YouTube is a very popular site. Almost 3 out of 4 marketers (71%) plan to increase their use of YouTube videos.

According to statistics from 2018, 73% of marketers are using Instagram. This is up from 66% in 2018. Also, Instagram has surpassed LinkedIn.
Regular Online Presence Is A Must
To be a professional people want to connect with, you must be active and regular on social media. If you're looking to engage your audience more heavily through social media, figure out how much time and resources you need to devote to it.
Ps. To give a boost to your medical practice in Texas, it is best to hire an expert social media agency in Texas before beginning your involvement in social media if you aren't ready to dedicate enough time and energy.
Post More Visually Attractive Media / Educational Content
Organizations that post more visually attractive media and educational content are more likely to acquire clients via social media. And, what's the best way to get people to consume your content? 
Make it visually attractive
There is no question that social media is a visual medium, and the most successful marketers are those who can consistently post visually attractive content. This can be anything from an image of your product to an infographic that explains the benefits of your product/service, to a video that shows the use of your product. This content should be relevant and informative in some way, as well as shareable. Almost all social media platforms allow users to post photos, videos, GIFs, and other multimedia alternatives.
Just for your reference…
If you are not graphics and creative savvy, a social media agency can help improve your presence on all the major social media platforms. They can be extremely useful in creating content that is useful, informative, and educational for your audience. If you want your audience to engage with you, share your content and view your profile as a trusted source of information—a social media agency can help you achieve this.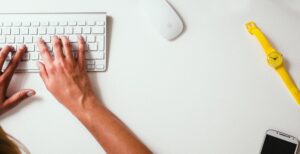 Image Source: Unsplash

Engagement Is Important
Medical professionals need to communicate with patients and the general public on social media, but they can't use the same techniques businesses do. In fact, doctors have a responsibility to avoid misleading or inaccurate information in their content. That's not to say that doctors can't use social media at all. It may be essential for them to do so. Patients are more likely to trust a practice with an active social media presence because it shows the care center is up-to-date with technology and trends. Digital marketing for doctors have faced unique challenge: how do you market their services when they're not allowed to discuss outcomes?
It's an important question because if your marketing is just telling people that you're the best, it's unlikely to convince anyone. A digital creative agency specializing in healthcare can help you solve this problem by focusing on the patient experience. 
This means creating quality marketing content that tells the story of your patients and their positive experiences in your office.
Here's how you can do exactly that…
Create "Not Your Average Doctor" Posts.
What's one thing that sets your practice apart from other doctors? If you can think of one thing, there are probably more – and they all make great posts!
Whether it's a silly tradition or something radically different about how your practice operates, there are lots of ways to set yourself apart from competing businesses… so long as you tell people about it!
Benefits of Hiring Social Media Agency
You can't know everything about social media marketing and if you are not sure about how to use social media for your business, it is better to leave it to the experts. For your medical practice, a professional digital marketing for doctors can help you achieve your goals. A marketing agency can help grow your audience and increase engagement rates on all platforms. You'll be able to see results within weeks or months rather than years if you try everything yourself. Marketing through social media experts offers several benefits. A Social Media Examiner reported the following benefits of focusing on social media in a 2019 report:
Greater exposure

Increased traffic

Improved sales

New lead generation

Patient loyalty 

Market analysis

Improved thought leadership

New partnerships
When you hire our social media agency, you avail yourself of the benefits of having a dedicated and highly trained team of experts who come with years of experience and know-how. We will take care of all your social media activities while you focus on your core business operations.
Takeaway
Social media has proven to be a valuable tool for digital marketing for doctors, interested in connecting with other professionals and patients. Through networking, doctors can share information and expertise with colleagues, patients, health advocates, and other professionals to work together and make the world a better place. Therefore, you can use this resource to stay in touch with your patients outside their hospitals and offer medication access and nursing care tips remotely.
If you are a doctor and don't have the time and resources to develop a strategic social media marketing program, contact a social media agency for help. The digital agency will have the knowledge, structure, strategy, execution to ensure that your ongoing social media marketing efforts yield positive results for your medical practice.
Do you want help to build an online presence for your medicare business? Reach out to us at [email protected] or schedule a FREE consultation call.